The history of the Servicemembers Civil Relief Act (SCRA):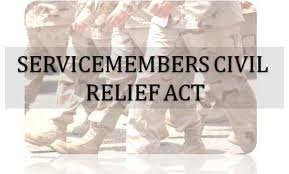 The Servicemembers Civil Relief Act (SCRA) is formerly known as "Soldiers' and Sailors' Civil Relief Act (SSCRA). Despite the act's official title (SSCRA) dating back 1940, its origins can be traced as far back as the Civil War when Congress passed a total moratorium on civil actions brought against Union soldiers and sailors. In basic terms, this meant that any legal action involving a civil matter was put on hold until after the soldier or sailor returned from the war. Examples of civil matters included breach of contract, bankruptcy, foreclosure or divorce proceedings.
The SSCRA was largely unchanged from its enactment in 1940. On December 19, 2003, President Bush signed into law the new-and-improved Servicemembers Civil Relief Act (SCRA). This law is a complete revision of the SSCRA but clarified the language, incorporated many years of judicial interpretation, and updated the SSCRA to reflect new developments in American life since 1940.
In other words, it was simplified.
The most recent amendment to the SCRA to provide foreclosure protection to servicemembers occurred in section 2203 of the Housing and Economic Recovery Act of 2008.
Ignoring the protections of the SCRA is not only wrong, it is punishable by law with fines or imprisonment.
You can read more about the law, in detail, by following this link:  http://usmilitary.about.com/od/sscra/l/blscramenu.htm
You can also read about many hidden or unknown benefits or protections by visiting more of my blog or visiting my FAQ page.